Coffee is a significant part of most people's lives in this fast-paced age that we are living in. It is the go-to drink along with tea to energize you and work the cogs in your brain.
What if we tell you that there is something better than a coffee maker out there?
Intrigued, aren't you?
Ninja Hot has moved ahead in their quest of innovation and has improvised the traditional coffee makers into something extraordinary. They believe to innovate the technology of the past to design a product so efficient that even professional critics find it hard to criticize it.
With this thought in mind, Ninja Hot has launched its hot and cold brewed system. It gives you the freedom to experiment with your daily beverages and lets you try a new drink every day.
Features of Ninja Hot and Cold Brewed System:
Multiple Brewing Sizes:
Ninja hot and cold brewed system is designed to accommodate cups of varied sizes. You can use a teacup, coffee tumbler, and even a carafe to gather your brew. It can fit six different sized cups or pots in its body to collect the grind you brew.
The quantity of your brew affects your coffee's taste. That is why it is essential to pay mind to the ratio instead of focusing on brewing as much as possible.
Dual Brewing Temperature:
This feature is self-explanatory as the product is advertised as a brewed system that brews not only hot but cold beverages as well. Tired of drinking the same old coffee? If yes, this brewed system is perfect for you as it gives you endless opportunities to experiment.
Its hot brew works at a temperature of 205 F and produces rich flavored beverages. Its taste is rich and vivid and there is not a hint of dilution in its flavor.
On the other hand, the working temperature for the cold brew is 110 F, which is accelerated than a normal brew temperature. The cold on ice brew gives your beverage a sweet flavor that you can enjoy in the summer heat.
One of the reasons that make this brewed system more famous than the others is its ability to make different types of beverages without affecting your caffeine intake.
Separate Brew Baskets:
Coffee and tea are the most common and preferred beverages that people enjoy every morning.
That is why Ninja Hot refrained from discriminating the kind of grounds you brew with their hot and cold brewed system.
It provides you with two separate baskets for brewing tea and coffee. This is a useful addition in its design as you don't have to clean one basket after every operation to brew different types of grounds. Furthermore, it makes sure that the flavors of tea and coffee grounds don't mix under any circumstances.
Built-in Frother:
Now, you don't have to go to your local coffee shop to enjoy a foamy cappuccino or silky and creamy flat whites. Ninja Hot has included a built-in frothier in its design that gives you the power to whip out beverages that otherwise require you to have special skills to prepare them.
Use this built-in frothier to create silky and soft foaming whites for your drinks. This feature helps you give your ordinary-looking temperature a professional touch.
Advanced Technology:
Ninja Hot strives to walk hand in hand with the latest technology. Hence, they incorporated Auto-iQ in their hot and cold brewed system. This technology does most of the work for you and decides how to achieve the desired taste by simply following the commands you feed it.
People who find it hard to make their beverage taste exactly the way they want might find this feature beneficial. After all, who doesn't love a brewed system that thinks and works for you instead of the other way around?
Aside from the Auto-iQ technology, Ninja Hot has made its interface completely user-friendly. The one-touch technology makes it easy for the users to operate on the machine easily without any qualms.
Pros & Cons of Ninja Hot and Cold Brewed System:
Ninja hot and cold brewed system has exceptional features that give people endless opportunities to experiment with. The duality that it offers is stunning and will keep you on your toes.
Its attractive features make it a product laden with pros but that doesn't mean there are no drawbacks. Ninja Hot's claim to make it hard for critiques to criticize their product stands true in some way. We had to dig deep to find something worth complaining about, but it was essential to do so.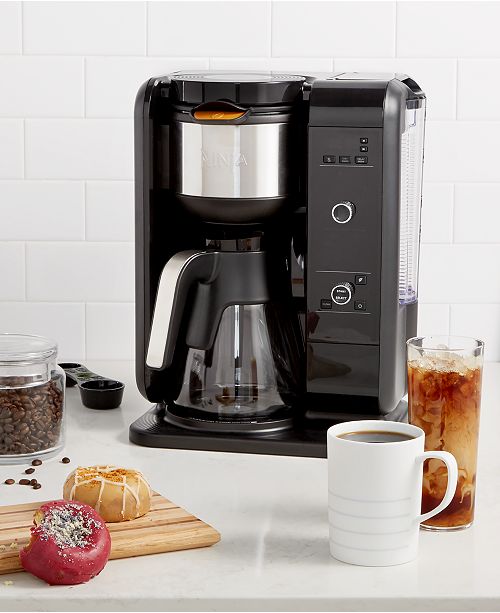 Pros:
Accommodates six brewing sizes
Auto-iQ technology
One-Touch operation
Hot and cold brew
Built-in frothier for a professional touch
Separate brewing baskets for tea and coffee
Lightweight
Compact design
Cons:
No warranty
Hard to clean
No specialized cleaning tools
Cold brewing time exceeds 10 minutes.
Our Thoughts:
Ninja hot and brewed system is perfect for those who are habitual of using technologically advanced products. It became our favorite kitchen tool immediately as we were able to experiment and create something new for ourselves every day.
It gave us beverages that looked so pleasing that it was hard to not post their pictures on our Instagram just for the aesthetics. The built-in frothier added the finishing touch that made those beverages look so appealing.
The quality of this product doesn't just end on the aesthetics, just like the Keurig k200, it allows you to prepare a wide range of beverages ranging from hot to cold. The one-touch technology and Auto-iQ give power even to an amateur to prepare a drink of the highest caliber.
Bottom Line:
Ninja hot is a manufacturer that holds technological advancements close to its heart, hence the need to produce products that are one step ahead of their time. It won't be wrong for us to say that the hot and cold brewed system can be categorized as a product that is professionally apt for use.
If you think that this coffee maker is not good enough, you can always check our other comparisons, like Keurig k425 vs keurig k475!